This incredible new castle is by far one of my favorites! The entire estate is full of fairytales and fables, from Mother Goose to The Brothers Grimm. What truly caught my attention was the morals behind the fairytales represented. I don't know if KingIsle had an ulterior motive behind their selection of fables, but if they did…..BRAVO! Each area of this home has positive morals hidden within the fable itself.
The Land of Fairytales and Fables
As we arrive through the Spiral Door, we see many pathways leading from a central farmhouse.  The central farmhouse also has a small barn with a secret tunnel that leads to the main house. There are multiple gardening areas all around the central farmhouse. As a bonus, this house is a like for your plants! There is also a lovely lake with a stream for fishing. I haven't quite figured out what fairytale the main farmhouse represents. Maybe Jack and the Beanstalk? What do you think it could be? I would love to hear your ideas in the comments below!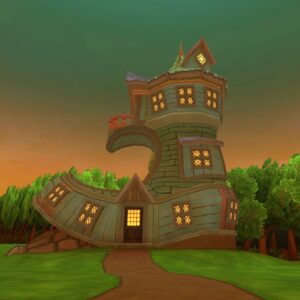 The first house we'll visit represents Mother Goose and The Old Woman who lived in a Shoe. It's a multi-level house, 4 stories inside, with quaint details. The last 2 stories are reached by climbing a ladder, how fun! The rooms inside are smallish, but have plenty of space for decorating in your style.
In the Old Woman and the Shoe, there is a woman who has so many children she doesn't know what to do! The moral of this story is, listen to your parents and have good behavior.
From there we go to visit the 3 Little Pigs, a fable originally published in 1886. You'll find a straw house, a house of twigs, and a brick house. These are cute little 1 room shacks.  To the left of them is a path that when followed takes you through a cave to the next house.
Just as the 3 Little Pigs worked hard to accomplish their dreams, so can you!  The moral of this story is you can accomplish anything with hard work and dedication.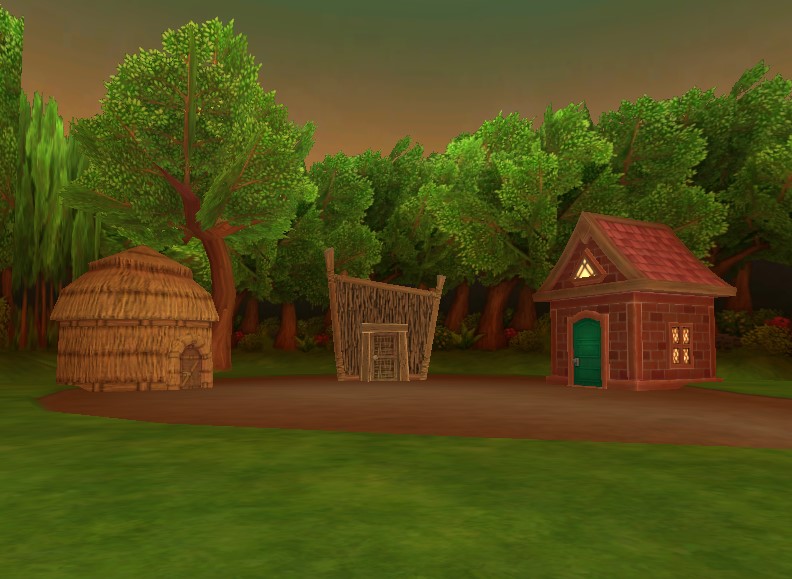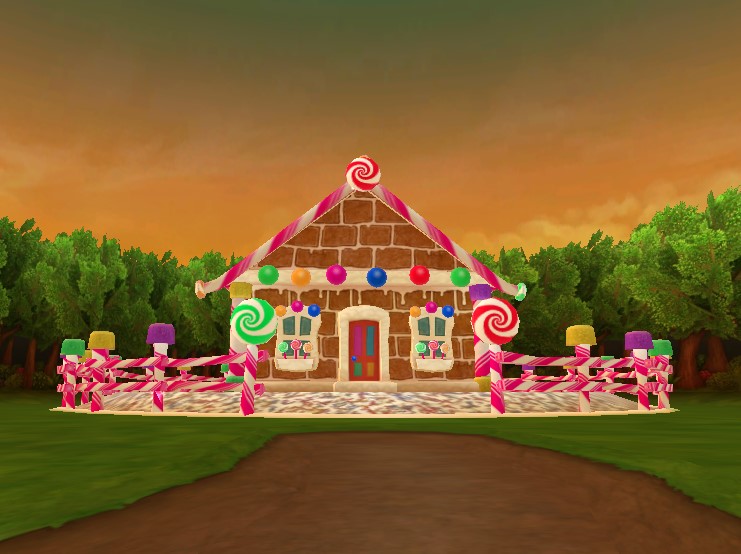 The next house we come to is the witches' house from the Brothers Grimm tale, Hansel and Gretel. This is a fabulous rendition of the enticing candy house. The entire structure is covered in sweet treats that sparkle in the sunlight. The interior has 2 rooms that are vibrantly colored, matching the outside. If you go through the side of the large tree stump, it takes you underground, coming out int the main area of the castle.
Hansel and Gretel got into loads of trouble because they didn't listen to their parents and trusted someone they didn't know. The moral of this story is to always listen to your parents and don't trust strangers.
After climbing a hill, we find ourselves at a wishing well. This well has a daily gift for your Wizard! On this occasion I recieved gold and a pet snack. Climbing a hill to a well is from an old 18th century nursery rhyme, Jack and Jill.
Jack was in such a hurry that he forgot to stay safe and be careful.  The moral in this story is to avoid being hasty and do things carefully.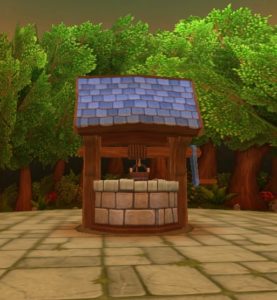 Rising to the sky we have the Brothers Grimm again, this time with Rapunzels Tower. This whimsical structure has 3 stories with a winding walkway that circles around the main floors.
Rapunzel dreamed of getting out of her tower and patiently waited for that wonderful day to arrive. The moral of this story is to never give up on your hopes and dreams!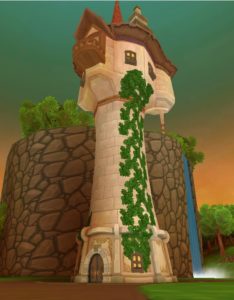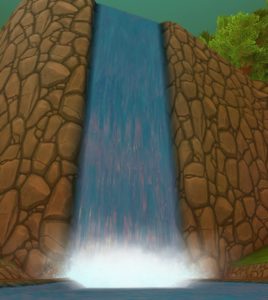 There is a hidden door behind the waterfall that takes you to the lower level of Rapunzels Tower!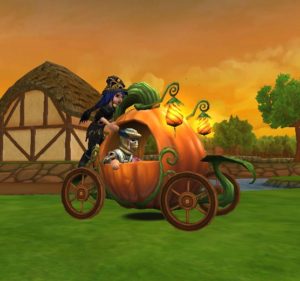 The mount that comes with the bundle is none other than the Pumpkin Carriage from Cinderella! This is another great multi-person mount from KingsIsle, this one with stunning details.
Cinderella had a hard life but kept a happy heart no matter what. The moral in this story is to be kind, forgive others, and don't let bad things ruin a good heart.
The pet that comes with this bundle is the adorable, or should I say "toad–orable" Noble Toad!  As his crown shows, he comes from a long line of Noble Toads!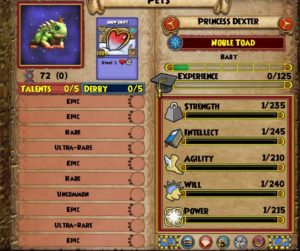 Gear fit for a King or Queen
If you've ever wanted to have a regal look, this is the gear for you. The stats won't replace your dungeon farmed gear, but it will make an amazing stitch!
This wand is utterly amazing, so very eerie!  It's called Poison Apple.  Once again, the stats are not the greatest but it would be another awesome stitch. Does anyone remember where a poison apple comes from? That's right, Snow White!  
Snow White was envied for her inner beauty as much as for her outer beauty.  Her good-hearted trust in everyone caused problems for her.  The moral to this story is that real beauty comes from within, and once again don't trust strangers.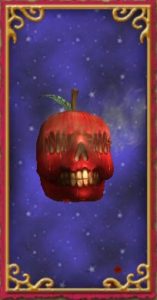 KingsIsle has outdone themselves with this bundle!  Not only is it an adorable castle with many features, but it also has wonderful morals for the children of the game. I hope you enjoyed this walkthrough of the Fantastic Fairytale Farm! If you see any other fairytales or fables represented that I missed, let us know in the comments below! Until next time, may all your dreams come true!