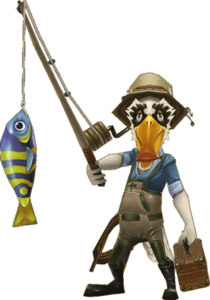 A beautiful part of Wizard101 is fishing. It can be a great way to spend some time with friends without the pressure of battle and strategy. Fishing will take you to some corners of the Spiral you may not have taken the time to explore before. Like any great hobby in Wizard101, it can lead to some great rewards.
But how can one start? What quests do you do, what fish are in the game, and where can you find them? I will guide you through all the basic information you need to get started.
Lucky Hookline is the fishing trainer. He will give you your first fishing mission and fishing spells. Before you start, read the Tome for Fishing next to Lucky Hookline.
Lucky Hookline: the Fishing Trainer.
1st quest: "A River Runs Through It"
Level 7 is needed to start this quest
Catch one in Commons:
Frost Dekoi / Ice Rank 1
Icecuda / Ice Rank 1
Reward: Lesser Frost Lure
When you have caught these fish turn them in to Lucky Hookline. He will give you an energy refill so you can continue your fishing quest!
You can also buy the other school lures now. They cost 1000 gold each and are as follows:
Lesser Harmony Lure / Lesser Repose Lure / Lesser Flame Lure / Lesser Vitality Lure / Lesser Fable Lure / Lesser Spark Lure
These are all important bait spells for catching rank 1 fish.
You can also buy spells to help find and see the type of fish in a pool. These cost 1000 gold and unlock at level 2 fishing:
Reveal Fish = Reveal the location of all Fish
Reveal Fish School = Reveal the Magic School of all Fish
These are great spells to have because they make fishing easier.
Now that you have finished your first quest, Lucky will give you a second one:
2nd quest: "Fishful Thinking"
Sharkspeare / Ice Rank 1 in Olde Town
Mechanical Armorhead / Storm Rank 1 in Cyclops Lane
Catfish / Fire Rank 1 in The Commons
Garrrfish / Ice Rank 1 in Cyclops Lane
Fish Sandwich / Myth Rank 1 in Cyclops Lane
Mainstream Dekoi / Balance Rank 1 in The Commons
Bone Fish / Death Rank 1 in Unicorn Way
The quest might seem overwhelming, but it helps you learn the basics. It's also a great way to explore Wizard City! Wizard City contains over 50 different fish. It also has seasonal fish that appear for a few days or months during special events. Every fish gives initial experience ranging from 900-2000. Less experience is earned after the first time you catch each kind of fish.
The best way to get started is to go to all areas and use the Reveal Fish School. Use your spells to catch as many different fish as you can in the world.
You can find unique fish in other wizards' houses. Visit Castle Tours in the Commons to find new fish!
Tips
Fishing takes patience, but it's a great way to use your unused energy.
You can keep your best fish and display them in aquariums, or sell your fish to Lucky Hookline for gold!
Don't forget that the fish you see in front of you are not the same fish other wizards see. Other players cannot catch or scare your fish away. However, if you catch a fish or scare it away, it will be replaced after 15 minutes.
If the pond does not have the right school of fish, scare them away by running in the water and come back later!
Also remember that the first time you go to an area, they load the names of the fish. Of course, this is hard to see but always keep it in mind about rare and epic fish.
Our next destination is Grizzleheim!
Until then, see more information about fishing here:
Good luck!