Today's topic is going to be pretty chill as we get into Legendary Ice PvP. The best level for Legendary Ice is definitely 66. My character was level 66 for the purposes of this article. Now, why Legendary ice? As ice you have loads of health a lot of resist so tanking long enough to stay alive and hit isn't usually a problem. I had a fun time getting to Warlord.
I went with a well balanced setup. I chose to play to this schools strengths with lots of resist, decent damage, and pierce. For ice, it's easy to get these stats especially with a ward pet. My basic strategy for this school was to save pips and use a combo.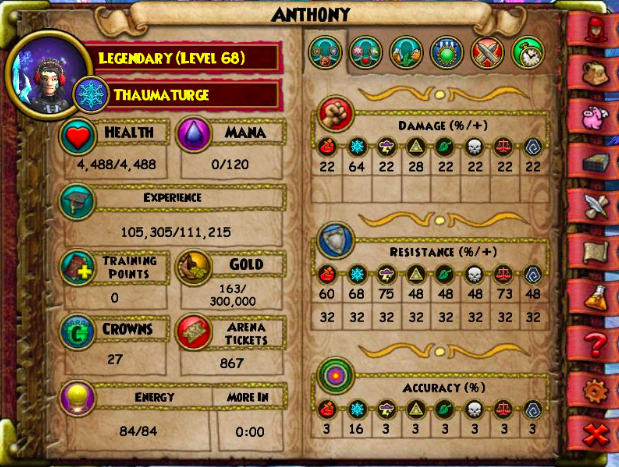 For this setup use House of Scales or Waterworks hat for the excellent well-rounded stats. The Shivering Breath Robes is best for damage, critical and resist. You can craft this robe in Zafaria. My set up also uses the Professor's Hoard pack boots. An Immortal's Lore pack wand for it's damage and pierce. The Duelist ring and athame for damage and pierce. A Life Mastery amulet and a resistance pet. As for the deck, I use House of Scales for the accuracy boost.
You will also need to get Winter Moon and Reindeer Knight. These spells will help with stuns, get rid of minions, and keep pressure on your opponent.
I actually made Leaderboards on this character, as I kept pushing. It was fun, and I enjoyed it.
Your goal as an Ice is to keep applying pressure. Chip away at their health with attacks. Using over time attacks will deal damage, and suppress their attacks as well. Blades are your best friend.
3 Freeze, 3 Frostbite, 5 ice blades, 3 ice dispels, 3 Reindeer Knight, 3 Snow Angel, 4 Steal ward, 3 Stun Block, 5 Towers, 3 Volcanic shield, 2 Balefrosts, 4 Winter Moon, maxed out Colossal enchants, 3 Gargantuan enchants, 3 Snow Serpent, 3 Fairy, 3 Satyr, 3 Reshuffle, and 2 balance dispels
.
3 Ice blades, 4 Tower Shields, 5 Gargantuan, 3 Sanctuary, 1 Shatter, 3 Cleanse charms, 2 Reshuffle, 3 Elemental blades, 2 Weakness, 2-3 triage, and 1-2 lord of winter
.
The main strategy is to outlive your opponent and continue attacking. This is slow gameplay and it will add up with combos. I always blade into an overtime attack when I can. I have 3 different types of over time attack. One is a single target and Two are all one enemy attacks. I fought a lot of Wizards with minions, with all one enemy attacks it was convenient for me to kill them.
What if you get hit by a Myth with shift? That's why we have resist to our own school. That way you can survive your own hit, and be able to heal back. I don't go too crazy with blades when I DoT (Damage Over Time). Usually, I save that for when I get an open shot to hit with Wintermoon, lord of Winter, or any other direct damage hit. The DoTs are also meant to get rid of shields, and DoTs work well against spammers.
Heal when your health gets low, you're going to be tanking a lot. You'll have the pip advantage to do so when you're setting up to do those constant attacks. Use Sanctuary or Balefrost when they Doom, they will always try to stop you from healing.
That wraps up this article on Legendary ice PvP. I hope you enjoyed it. If you have any questions, reply in the comments section below. Thanks for reading!