Welcome back to Crafting101. In our second edition of Celestia crafting, we will go over Odgen Peake's Tea Set request. You will find him in Survey Camp, Celestia, down the left path when arriving from the Spiral Door. In his quest, "Time for Tea," Odgen Peake is homesick, and asks for a tea set, to give him a touch of home while he's away in Celestia
The recipe is available from Tarold Wayfinder in Northguard, Grizzleheim for 2,430 gold. You will find him in the crossroads of the courtyard of Northguard's fort.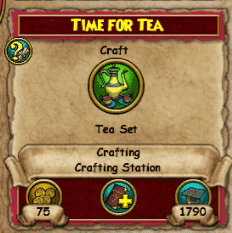 The Recipe
Reshuffle
You will need 5 Reshuffle Treasure Cards. Harold Argleston, Zan'ne, and The Archivist sell this treasure card for 1,100 gold each. If you are a Balance Wizard, Niles in Krokosphinx, Krokotopia has the recipe to craft this card.
Amethyst
You will need 1 Amethyst. You will have to harvest or buy this gem from vendors like Al Saf'wan or Campbell Hodgson for 15 gold each. They may be harvested from plants such as Ivy League, Snap Dragon, and Fortune Cookie Tree
Shadow Oil
You will need 3 Shadow Oil. Archytas, Campbell Hodgson, and Al Saf'wan sell this reagent for 20 gold and it ranges from 10-100 gold in the bazaar. This reagent may also be harvested from Orange Dandelions.
Glass Vial
You will need 1 Glass Vial. Crystal Vial is a pricey reagent when bought from a vendor or the Bazaar. The vendors in Wysteria, Mooshu, and Dragonspyre sell them for 330 gold whereas buying them from the Bazaar may cost between 165 to 1650 gold each, depending on availability. This reagent can also be harvested from Pink Dandelions.
Fossil
You will need 8 Fossils. Fossils are a rare harvest from Stone Blocks, which can be found in Survey Camp, Base Camp, and Stormriven in Celestia, along with many other places in the Spiral. This reagent may be harvested from Burning Snap Dragons and Fickle Pickles. The transmute recipe is listed below.
Red Mandrake
You will need 35 Red Mandrake. Mandrake may be collected from The Floating Land in Celestia, the Haunted Cave, Sunken City, Nightside, and Colossus Boulevard in Wizard City. The Transmute recipe is listed below.
Transmute Recipes
Fossil
This recipe requires 15 stone blocks. It is available from Balthazar Dragonthorn in The Atheneum, Dragonspyre for 200 gold. As mentioned, stone blocks can be found right in Celestia.
Red Mandrake
This recipe requires 10 Mist Wood and 10 Mushroom. It is available from Eudora Tangletree in Olde Town, Wizard City for 300 gold. Mist Wood may be found, most notably, in Marleybone and Wizard City, as well as The Floating Lands, Celestia. Deep Mushroom may be found in Wizard City, Mooshu, inside the structures of Krokotopia, and Stormriven, Celestia.
Once you have collected all of the reagents, you will need to craft the tea set in the furniture crafting station. Now let's go enjoy a spot of tea with Odgen Peake! Congratulations on your extra training point, use it wisely. Please note that this is a side quest and you will not receive a new crafting badge or time slot.