Every Monday morning the weekly tournament fish changes. There are fishing secrets that I can tell you. I want to share with you my experience in the fantastic world of wizard101 tournament fishing!
Sword Tail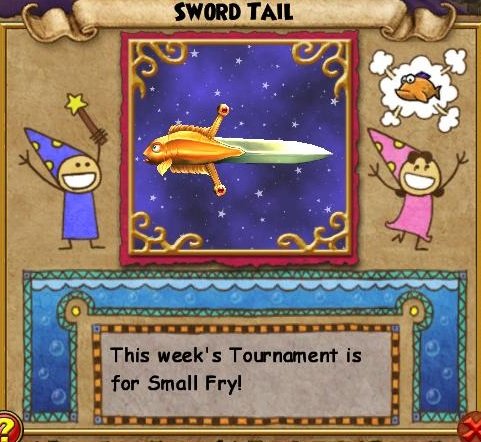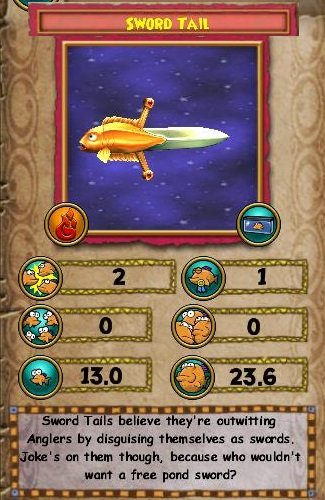 School Fire /Rank 2 /Common/Large /1,400 XP
Limits:

Small Fry < 12,90
Whopper > 25
No used in any recipes
Αverage sale price in gold: 200 each
Fish Locations:
Avalon:
Caer Lyon
Caliburn
High Road
Lake Shore
Mysterious Well
Poisoned Well
The Wild
The Wyrd
How to catch a small fry
The best to catch this fish is the Mysterious Well. In all locations you will also find the "Fish and Chips" fire school rank 1. The smallest pond we can see everything from fishing spells in at the same time is the Mysterious Well. It is a dungeon but it is not necessary to fight in order to fish there.
Find it in Order
Caliburn / Caer Lyon/ Outer Yard / Mysterious Well
Spells in order:
If nothing is affected – Summon Fish and repeat

If it shows a fish – Check to see if it's moving faster than the others, if not it's the "Fish and Chips"
The first 3 winners will get tournament tickets:
First: 120
Second: 50
Third: 20
The tournament ends at 27/08/18