We have an exciting addition to the Housing Tours office! Angelica Windspar has decided to join her sisters Myrella and Eliza. I do believe that "everything housing" is their family motto. I wish they'd offer stock options, as they do booming business! Angelica's a crafty cat and brings some fabulous new recipes for our crafting pleasure. Attractive and functional, I'm sure you will enjoy their uses.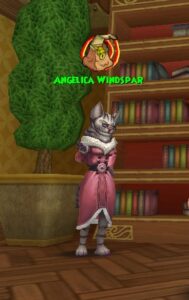 Angelica was kind enough to let me peek in her crafting recipe book. Here are the beautiful things I saw that she brought to Housing Tours. Useful housing items, invisible housing blocks, and even a new apartment! She has an exciting variety of new treasures to suit any Wizard.
So without further ado, let's check out what she has to offer!

As with some other crafting recipes, there are badges you must get to buy the recipe. You can earn the badges by visiting and voting on different castles. Here are the ones I have found :
Castle Tourist-Vote on 10 castles
Castle Auditor-Vote on 100 castles
Castle Inspector-(Vote on 1000 castles?)
Castle Assessor-Unknown
All the new recipes need reagents that can be easily acquired except for one. In this update, a new reagent was introduced; they're called "Blueprint Tokens." One known way of getting them is through The Spiral Scene housing tours event. KI has also mentioned they may become available from other sources in the future, like the Scroll of Fortune.

No more running to Marleybone for your Castle Magic needs. You can craft your very own Babbage Basset to have in your castle. Very convenient, to say the least!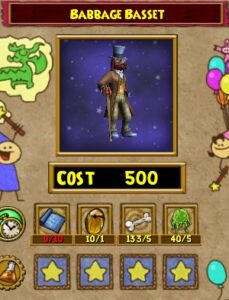 A great time-saver is the new bank item that you can place anywhere in your castle, for your convenience. With six versions available, I'm sure you will find one to suit your style.
Angelica has something special for all the housing fanatics. Recipes for invisible housing blocks! As a fanatic myself, I can think of some fantastic and incredible ways to use them.
I can't wait to see what you all create with them!
If you have ever wished you could have a Spiral Door elsewhere in your castle, your wishes have been granted. Craft this and place it wherever your heart desires.
I'll definitely be placing them all around my castles.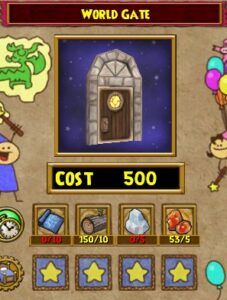 Woohoo! Looky here! Last but not least, we have a new craftable apartment!
Your fabulous new apartment will be located across from the Fairegrounds in the Commons. What a lively place for a home! It's the same basic style as the craftable one from Derrick Blaze at the Team-Up Kiosk. This recipe calls for A LOT of Blueprint Tokens, so I sure do hope they aren't too hard to get. With such a great location, though, it will be well worth the effort.
Well, there you have it. All the new recipes are available at the Housing Tours office in the Commons. I think they are a great addition to the game. You can bet I'll be utilizing most if not all of them. Leave a comment and let me know what you think. Will you be crafting them? Have you thought of a clever use for a new item? Let us know in the comments below or the housing channel at Ravenwood Community! See you there.