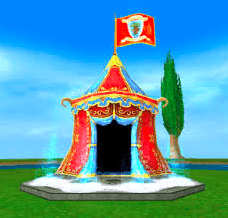 The Grand Tourney Arena is a housing dungeon that comes with the Grand Tourney Bundle. The dungeon can be accessed through castle tours using a glitch. The drops mentioned in this guide will be for the highest tier.
There are 12 pieces of gear (3 sets; each with a hat, robe, boots, and wand) from the Hoard of the Hydra card pack that drop from this housing dungeon. There is an Energy Set, a Healing Set, and a (terrible) Offensive/Utility Set.
Offensive/Utility Set (World's Fool Set)
As I stated before, this set doesn't really have much to offer. Aside from the wand (that will be mentioned later), each of the 3 pieces provide a decent amount of health and power pips, as well as universal accuracy, damage, and resist. They also each give a nice utility item card: Cooldown (1 Pip), Enfeeble (2 Pips), and Mana Burn (target loses 4 pips).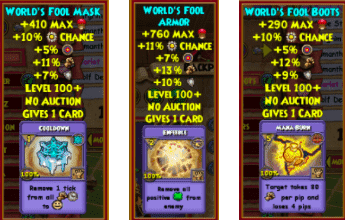 Regardless of what school you are or what role you play, I can only see this combination of stats being useful for a spammer or support at best.
Energy Set (Pixie's Encanta Set)
The level 100+ version of the Energy Set gives a total of +59 energy. (Hat, Robe, and Boots give 18/23/18. The wand in this set doesn't actually give any energy bonus.)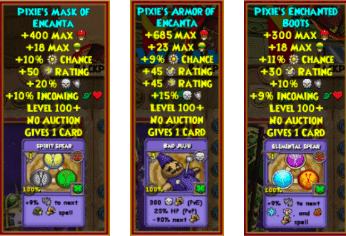 Healing Set (Faerie Court Set)
The level 100+ Healing Set a great option if you don't want to spend crowns to get healing gear from packs, especially for non-life wizards. The 4 pieces give a total of 56 incoming and 60 outgoing healing bonuses! With a decent ring and athame, that could easily total to 100/100 or more. In addition, it provides item card versions of Rebirth, Healing Current (2 pips), and two Guardian Spirits (Restores 20% hp).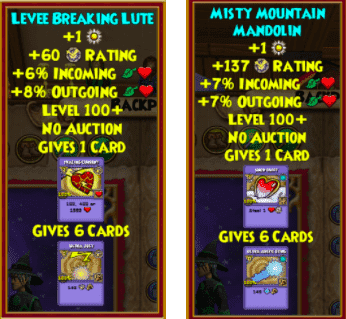 *Note: Although the Mandolin of Evermore visually looks like it matches with the energy set, I listed it with the healing set because it has the best healing stats of all 3 wands.
The Wands from the other sets also give decent healing boosts, with similar critical block ratings and a different item card.
This dungeon also drops many snacks (including mega snacks) at a high rate. Here are some of the good snacks:
The gear's drop rates are decent, and the dungeon is very easy with a full team. Good luck!