Here we are again,  time for one of the most exciting "events" of the year! That's right, test realm has gone live! This is our time, as members, to see what is coming up in the Spiral and be a part of bringing the updates to live realm. With our help, KI can polish up a new addition to the Spiral.  If you've never tried test realm, I highly recommend you download it and give it a try! 
You can download it here: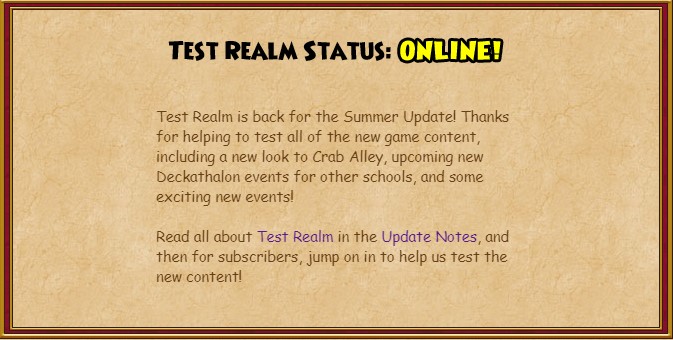 Wizard City revamp is complete!
The last remaining part of Wizard City to be renovated was Crab Alley. Well, with this test realm, they have finished it! It still follows the lead from Triton Avenue in regards to "storminess", but has a much deeper and  richer texture than ever before. As with the rest of Wizard City, the creatures are more enhanced with better details. Well done KI!  This entire revamping has been an amazing additon to the game.
The Photomancy advisor, Annie Shutterbug, is no longer hanging out by the Library.  She can now be found in Golem Court, where our next NPC used to be. 
The Registrar, Mr Lincoln will now  be located in Ravenwood.  Quite appropriate as you will see next in this article.
We now have a Resident Advisor for new incoming wizards, named Abby K. Doodle.  She's a wonderful young lady that escorts you around Wizard City, introducing you to the many fun activities available to enjoy. She also makes sure to introduce you to the main NPC's you need to know of. This is a wonderful addition that will definitely make things easier for new Wizards. 
We meet Abby K. Doodle in Merle Ambroses office, and she invites us to come along with her on a tour of Wizard City. We start in the Commons, where we are introduced to Lucky Hookline, Zeke, and  Eloise Merryweather.  They, in turn, explain what they have to  offer for game play. 
After that, she takes us to Golem Court, where we meet Annie Shutterbug and Farley and find out what ways they can help us on our journey.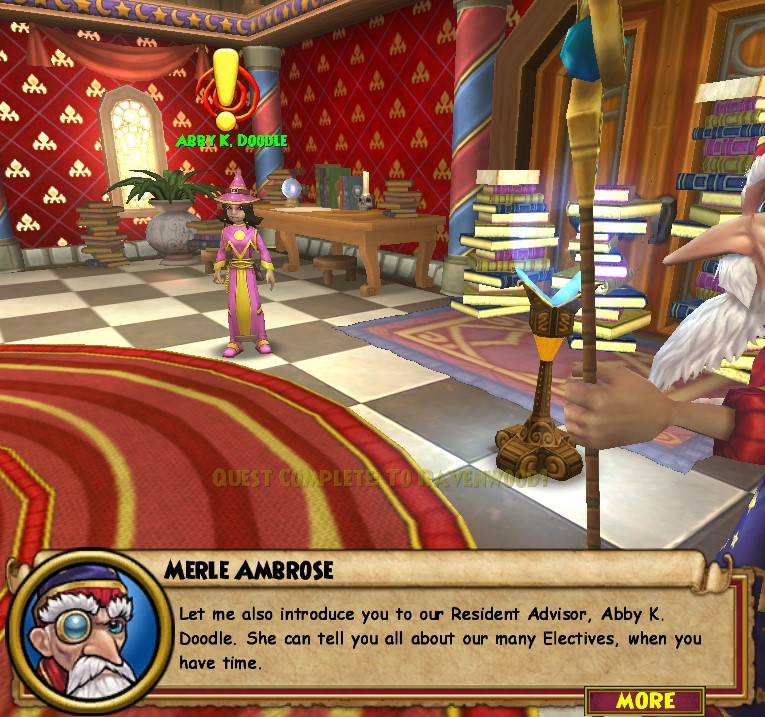 She doesn't stop there, though.  Next, we head on over to the Shopping District, where Abby tells us about all of the different shops there and the types of items they carry. We, at last, end up in Olde Town where we learn about the Bazaar and meet Elik Silverfist. Eudora Tangletree says hello as well, and introduces you to the idea of crafting in Wizard101.
Wizards will receive a badge for going on the tour with her, but it is currently un-named in test realm as of publish.
Another great change for new Wizards is the way you get to meet the Professors for the first time.  After completing Unicorn Way, Merle Ambrose sends you to Mr. Lincoln at Ravenwood to register. Surprise, surprise, all the Professors are right there! They stand together to welcome you to the Spiral. They take turns introducing themselves, then your school Professor teleports you to  the school. Cool, huh?!
So much easier than having to run to each school to meet them!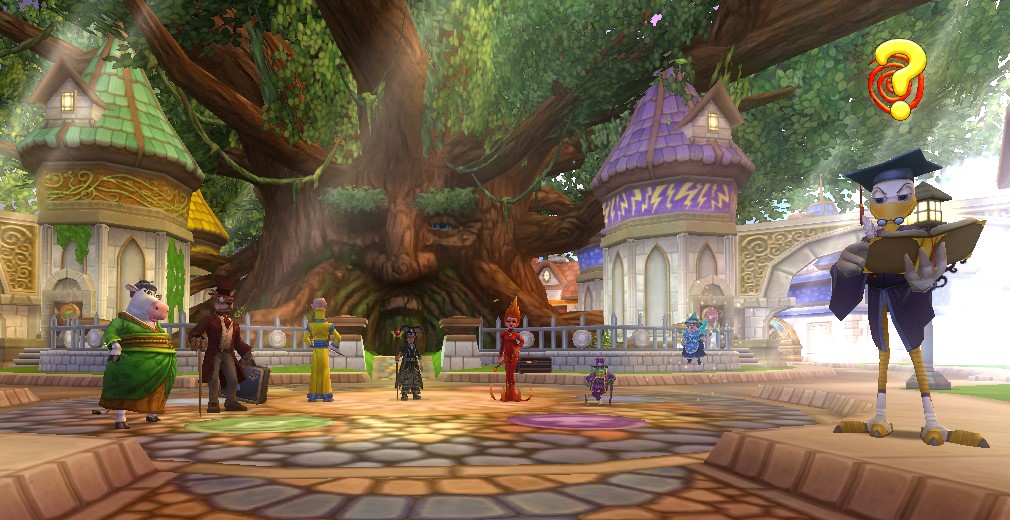 Harold Argleston, the Librarian, has added some extra spells to his inventory.  No, sorry, not new spells, but ones that can be hard to find.  The cards that have been added are: Balance Blade, Nature's Wrath, Sandstorm, Blizzard, Stormzilla, Hex, and each school's Traps.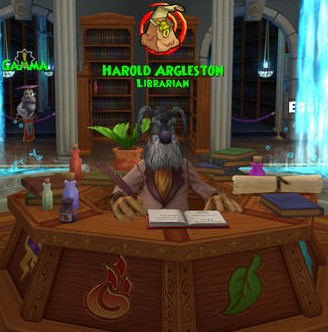 Woohoo for the Balance Blades and Hex!
They have changed up the Quick Sell process and you can now sell your pets and crown items for gold! I love this, as I dislike having to just trash items or pets that I do not want or need when I don't have the time to go all the way to the Shopping District to sell them. The Quick Sell button has moved and is now located on the lower left hand side of your tome.  Because of the ability to actually sell a Crowns item, they have implemented an extra "Are you  sure you want to sell these items", verification. This helps us to make sure we aren't accidentally selling something we truly want or need.  
One last  little thing, before finishing this off. I noticed while starting off with a new Wizard, that there was a new healing spell attached to the wand that Merle Ambrose gave me. I personally have never seen it before. It was called "Heartbeat". A 1 pip spell that delivers 245  health. I do not know whether it is a new spell they are adding in but it seems that way.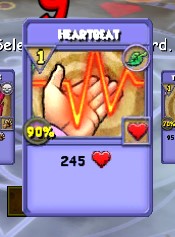 That concludes this walk through of the new updates coming that are on Test Realm right now. What do you  think of the new changes? Let us know your thoughts on these fabulous changes coming to Wizard 101!