Every Monday morning the weekly tournament fish changes. In this article, I will share my experiences with the fantastic hobby of tournament fishing!
Kiliman Copperleaf Doodlefish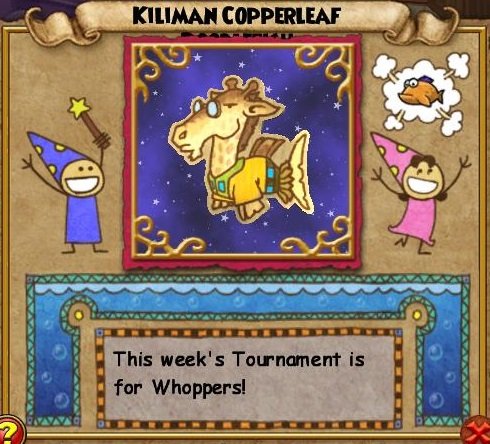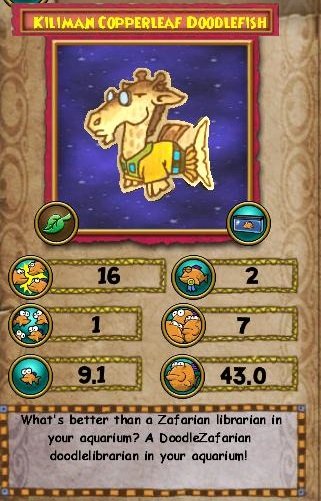 Life School | Rank 2 | Common /Regular |1500 XP
Αverage sale price in gold: 700 each
Used in recipe:Pet Bread Crumb
Ingredients:
1 Merle Doodlefish
1 Satyr Doodlefish
1 Zeus Doodlefish
1 Pacal Doodlefish
1 Goliath Doodlefish
1 Kiliman Copperleaf Doodlefish
1 Nalia DuneStrider Doodlefish
1 Flytrap Doodlefish
Vendor:
Jackie Whisperflame/Wizard City – Pet Pavilion – West Ende Girls Snack Shop  (5,000 Gold)
Limits:
Small Fry: <10
Whopper: >40
Fish Location:
Housing Items:
The Sun Palace
How to catch a Whopper:
In the same area, the Sumo Koi fish is available to be caught. It is the same rank, same school but different size in whopper. The Kiliman Copperleaf Doodlefish's shadow in the water is 40 in length for a whopper and the Sumo Koi's shadow is 35 in length. Also, the Doodlefishes always swim faster than other fishes.
How to find this fish:
Common Vitality Lure/ Winnow Rank 3 Fish/ Reveal Large Fish

 If no fish are affected: Summon Fish and repeat

 If a fish is revealed: Charm Fish / Minor Vitality Lure and catch it.
Advice:
The Sun Place has two ponds that link together for the fishing spells. So, it is unnecessary to repeat the spells when you go inside in the second pond.
The first 3 winners will get tournament tickets:
First place: 120 tickets
Second place: 50 tickets
Third place: 20 tickets
The Tournament end on the 17/12/18
Good Luck!