If you are an absolute nut about Castle Magic, you will be delighted with the new spells that KI has added! Each of the 7 schools have new "Effect" spells available. Some of the most loved spells in the game will be available when Test Realm goes live. No shadow spells at this time, (dad-gummit), but we can always hope for the next update. There is even 3 new "Utility" spells, one of which allows you to basically turn-off access to your PvP ring in your castle, if there is one.
So without further ado, *drum roll please*, let's take a look at what is being introduced!
New Utility and Action spells
We'll start off with the first "Utility" spell that is being added. If you have a PvP Ring in your castle, it effectively "turns off" access to it.  I could see this being useful for those large parties we like to have, helping to keep your party organized and on schedule. Just as you can control when a housing game is played, you can now control when PvP is activated.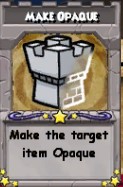 The last one, is a wonderful addition to Utility spells.  This one will allow you to make something that appears solid, more ghostly.   Whether it's a housing item, a pet, or a monstrology creature, you will be able to give it a shadowy appearance.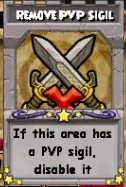 The second one we have, allows us to change the appearance of an item from shadowy, to solid. This will come in handy for the DS monstrology creatures that are ghostly looking.  You can now give them a more solid look.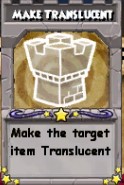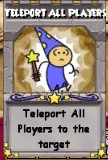 Next we'll will take a look at the only "Action" spell that is being added. This one allows you to use castle magic to port all visitors in your castle to one spot. I could see a lot of fun being had with this one!  When activated you could port everyone to a tricky place, or simply somewhere crazy.
Each of the 7 original schools have new spells being added. They are the higher level spells that can be found in most level 130 decks. Some are rare spells normally found in packs and by farming Loremaster. Each one of them will create your favorite spell in your castle! I'll break them down school by school for you here.
Gaze of Fate
Loremaster
Nested Fury
Samoorai
Savage Paw
Call of Khrulhu
Deer Knight Attack
Headless Horseman
Winged Sorrow
Brimstone Revenant
Burning Rampage
Fire from Above
Krampus
Raging Bull
Abominable Weaver
Angry Snowpig
Handsome Fomori
Snowball Barrage
Snowball Strike
Winter Moon
Goat Monk
Hungry Caterpillar
Luminous Weaver
Pigsie
Sacred Charge
Wings of Fate
Athena Battle Sight
Keeper of the Flame
Mystic Colossus
Ninja Pigs
Witches House Call
Catalan Attack
Catch of the Day
Glowbug Squall
Queen Calypso
Rusalka's Wrath
For those of you just getting started with Castle Magic here are some great tutorials, by Mofodo, to get you on your way.

So there you have it!  All the fabulous new additons to Castle Magic spells. I'm very excited for it to be released live and can't wait to bring these spells to my castles. I already have some great ideas for Headless Horseman and Krampus!  Are you excited for the new spells? Let me know in the comments! 
I cannot wait to see how all you wonderfully creative Wizards use them!