The contest:

 
This year we want to see your imagination soar! Wizard101 is a game with a rich and detailed storyline, but there is so much more to tell,  and everyone enjoys a good summer read. We want you to tell us a story about one of your favorite characters from the game. Use your favorite housing items and the skills you have learned to bring a new Wizard101 story to life!
Arrange your items, your Wizard, and your friend's Wizards to spin us a brand new fantastic fairy tale. From straw into gold, take up to 10 screenshots and arrange them in the correct order to tell your story.

Use the images we have here as an example of what we are looking for.



Paintshop, Photoshop, or similar editing software is allowed for text bubble editing. We expect the story to be contained in the screenshots and text bubbles, but you may use up to one paragraph under each screenshot to further explain the story.

It is OK to use any type or kind of house that you own in the game as well as any number of houses to achieve the story. We may ask to tour your sets live in game, if you are the winner, so that we can verify it is your creation.

The most original story with the most creative housing set will win. First place will win a Fantastic Fairytale bundle, and runners up will get one of these other great prizes!
How to Enter:
1.  Set your PC's graphics settings to high, and ensure the resolution is maxed (preferably 1920×1080)

2. Once you're happy with the results and story, capture the best screenshots.

3. Send the screenshots to: Community@ravenwoodacademy.com

4. Name the email Subject line: RA Wizard101 Summer Story contest (Note: If you don't fill out the subject line, your entry won't be included).

5. Include your Wizards name, a little bit about what inspired your story, and how long you've played Wizard101.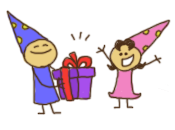 1st place: 10,000 crowns + Fantastic Fairytale bundle + Expand Friend List Elixir +1 Month Membership
2nd place: 5,000 crowns + Level 50 Elixir + Tiki Waverider Mount + Blue Raptor

3rd place: 3,000 crowns + Tiki Waverider Mount + Fog Staff code
Contest Rules:
• Entries must be submitted by July 30th at 2:30 pm EST
• One entry per email/Wizard.
• If you are under 13 years of age, you must get your parent or guardians permission to participate.
• Entries must be entirely original creations made by you.
• Entries that use copyrighted or any NSFW material will not qualify.
For general discussion/ questions/comments head over to the thread on the Official Wizard101 message boards HERE!
If you're unable to post on the forums, please email our Owner/Community Lead: ndarkhorn@ravenwoodacademy.com
for all questions/comments, etc.
Good luck, Wizards!